Skip to end of metadata
Go to start of metadata
To share files or folders using Quatrix plug-in you should be a registered Quatrix user. 
 Note: there may be occasions when Outlook 2013 or 2016 fails to enable the Quatrix plug-in. You should choose "Always Enable this add-on" for the Quatrix for Outlook in your Outlook settings, to prevent the plug-in from being disabled.
After clicking on the Account Details the following options appear: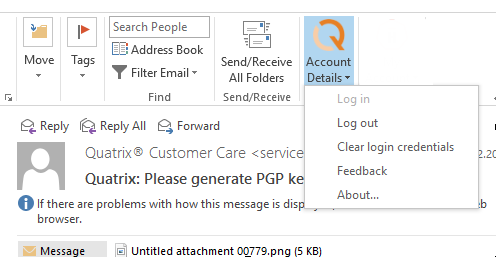 Log in - use this option to log in to your Quatrix account.
Log out - use this option to log out of your Quatrix account.
Clear login credentials - this option is used to delete login credentials which are displayed on the login form. 
Feedback - help us improve our service by sending us your

suggestions and ideas.

   

About ...- provides a brief description of Quatrix Outlook Plug-in. 
How to share files or folders using Quatrix for Outlook 
You should follow a few simple steps to share Quatrix files or folders in Outlook.  
Log in to your Quatrix account with your login credentials 

Click on the New email and select the Attach option of Quatrix (see the screenshot below)

Select files or folders for upload. Uploading files are shown in the Quatrix Uploader window which is displayed in the bottom right corner. You can track the status of the upload on the status bar.

You can choose the share privacy level and additional options by clicking the Settings icon on the Quatrix Uploader window. 

You can specify additional options for your share:

 

Expiry date 

- share links never expire but to set an expiry date clear the check box, click on 

the calendar icon and choose an expiry date and time. Download links are permanently 

inactive when they expire.

Release date

 - use the same method to set a date and time to release your files. You can 

upload your files and send out the links but download links are inactive until the chosen time.

Notify me on download 

- 

select this check box to receive a notification email when the files are downloaded. 

Recipient(s) can return files 

- if selected, the notification email will contain a link to a page where 

your contacts or users can send files back to you.

Destination Folder 

- s

hows 

the path to the uploaded files.

PGP encrypt files is not currently active. It will soon be released.

Click on the Send button and your files are automatically uploaded and sent. Your shared files/folders are displayed in the Sent items folder of Outlook and in the Outbox folder of your Quatrix account.